Rooted in the rich Catholic Christian Tradition and ecumenically centered in the reconciling Love of God, the mission of campus ministry at St. Ambrose University is to build a welcoming community of Faith Learning Justice by praying, seeking wisdom, and committing our gifts in leadership and service.
Campus Ministry is here to serve our students in their faith lives, and to assist them in the service of others.
---
Christ the King Chapel
All are welcome to join us for Masses and other prayer services at Christ the King Chapel. Sunday masses are at 10:30am and 6:30pm during the school year. Daily masses are offered at Noon on Mondays and Fridays, 4:30pm on Tuesdays and Thursdays, and 9:15pm on Wednesday nights (at the Grotto if weather permits).
Be sure to check the News and Announcements page for any changes in the mass schedule, as well as to check out the Campus Ministry Bulletin!
---
Lent 2014 at St. Ambrose University
Ash Wednesday is March 5 this year, and with Ash Wednesday, we enter into the season of Lent. Lent is a wonderful time to renew our commitments to Faith Learning Justice and there are a wide variety of opportunities to celebrate the Lenten season. Be sure to learn more about Lent.
---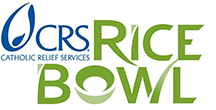 Catholic Relief Services - Rice Bowl Collection
Starting on Palm Sunday (April 13) Campus Ministry will be collecting up the Rice Bowls to give to Catholic Relief Services. Please bring back your filled Rice Bowls. All proceeds go to help fight hunger, in the Quad Cities and around the world. Bring your Rice Bowl to the Chapel, or go to Catholic Relief Services and make a donation. You can make a difference!